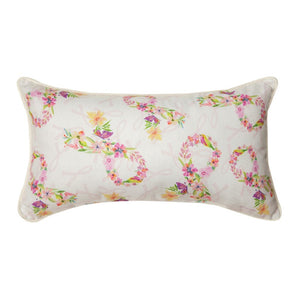 Experience the warmth and beauty of our Pink Courage Pillow, a powerful symbol of breast cancer awareness. This stunning 17" x 9" pillow is designed to infuse any space with cozy comfort and vibrant energy, making it a perfect addition to your home.
Exceptional Quality:
Crafted with precision and care, our Pink Courage Pillow boasts durable stitching, ensuring it remains a beloved part of your decor for years to come. Its vivid colors are a testament to its quality, promising to brighten up your surroundings.
Transform Your Space:
Looking to change the atmosphere in a room effortlessly? Simply toss this throw pillow onto a sofa, bed, or chair, and watch as it instantly elevates the mood. The Pink Courage Pillow isn't just a decorative piece; it's a statement of support and resilience.
Join the Movement:
Breast cancer awareness is more than a cause; it's a symbol of strength and unity. By incorporating our Pink Courage Pillow into your decor, you show your support for those affected by breast cancer and contribute to raising awareness.
Order Your Pink Courage Pillow Today:
Make your space cozier and more vibrant while making a meaningful statement. Order your Pink Courage Pillow now and let its colors and message fill your home with hope and courage.
Transform your space, show your support, and join the movement with our Pink Courage Pillow. Get yours today!
Size: 17 x 9 in.
Spot Clean Only
Perfect construction and finish
High-quality material for durability
Designed to offer maximum comfort and relaxation